Bitcoin
I recently decided to do something with Bitcoin and I thought it might be a good idea to share my experiences here. And many things in my mind now, as I can't exactly remember why I wanted to start with Bitcoin and while writing here now I realized quite some people must have made quite some money with Bitcoin as the rate has shot up exponentially the last years. And yes, while I started, a few weeks ago, the rate was pretty unstable and (had) dropped quite a bit, as far as I know because China closed down Bitcoin exchanges, but I still believe Bitcoin has a future, even though I don't fully get the (technical) concept yet.
Bitcoin wallet
Well, I understood I needed a Bitcoin wallet, so I searched a bit and found Bitcoin Core, so I decided to install that on my computer. Kind of a mistake, as Bitcoin Core seems to be part of the Bitcoin network that maintains the transactions, so it started downloading more than 100 Gb of data (and that is still not finished). And I can't use my Bitcoin wallet until the download is complete, so I was not able to get Bitcoin yet with that.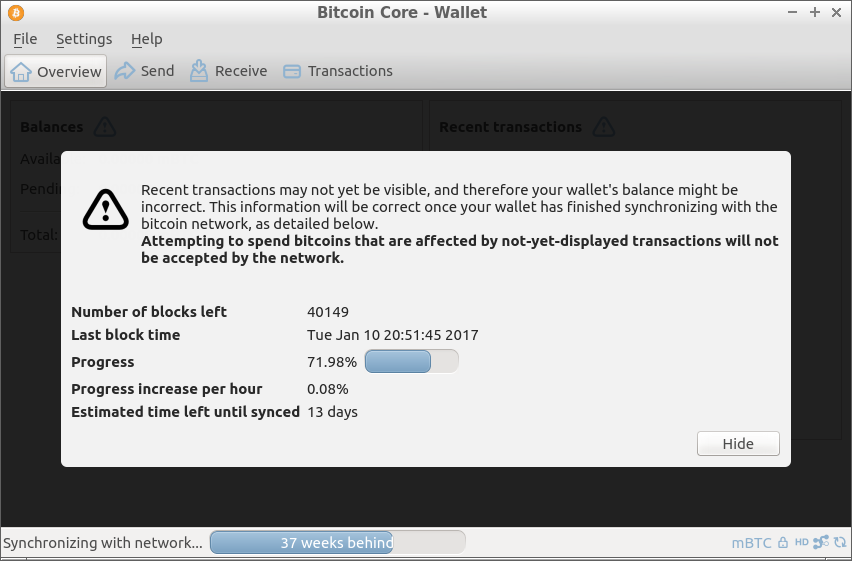 Slow progress with Bitcoin Core
Anyhow, I normally don't give up easily if I want something so I started looking for other ways to get Bitcoin, which was much harder than I thought, as I needed to sign up to some site that would exchange Euro or USD for Bitcoin. And being a Dutch citizen living in The Philippines it took me a few sites I found in Google I was able to sign up for. And again, I ended up with something I did not really want, namely the Kraken Bitcoin Exchange, which is more of a currency trading account than a way to just buy Bitcoin. Like I found the charge to get my Euro back would be USD 60.00 or more, which does not make sense as I just put EUR 100.00 in the account to buy Bitcoin.